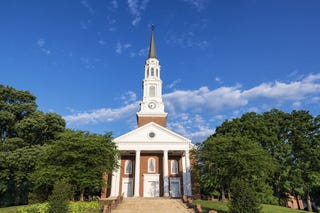 The University of Maryland, College Park has tapped a national leader in multi-cultural education as its new chief diversity officer, after complaints from students about a hostile racial climate on campus and how the school was not doing enough.

The Baltimore Sun reports that Roger L. Worthington was chosen for the new post and will also serve as interim associate provost.
It reports that Worthington has been a professor and chair of the department of counseling, higher education and special education in UM's College of Education since 2014. He was previously chief diversity officer and assistant deputy chancellor at the University of Missouri.
Worthington is also editor of the Journal of Diversity in Higher Education, a founding member of the board of directors for the National Association of Diversity Officers in Higher Education, and the principal author of the "Standards of Professional Practice for Chief Diversity Officers."
"I have dedicated my life's work to advancing difficult dialogues and creating a culture of inclusion in higher education," he said in a statement. "The University of Maryland was once a national leader for diversity in higher education. In the face of tremendous tragedy, we can come together as a community to achieve transformational change and return to being a model of equity and social justice."
The tragedy Worthington refers to is an incident which occurred in May, in which a black Bowie State University student, Richard Collins III, was stabbed to death on the College Park campus. A white UM student was charged in the death.
The outlet reports that a noose was also found in a fraternity house in April and white supremacist posters were found around the campus earlier this year.
Read more at the Baltimore Sun.